25-50% Off Tree Removal!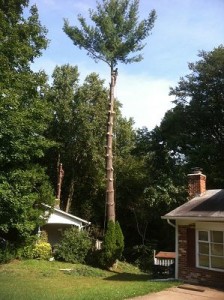 Tree removal is sometimes necessary to maintain a landscape. If you have a dead or dying tree on your property, its removal may be critical to the health and protection of your property. This will ensure your lawn, shrubs and even surrounding trees live longer, as well as protect your house, business or property should the tree fall. Our technicians are experienced and proficient in all aspects of tree removal.
Tree removal is a technical, delicate process. It's definitely not a task you want to leave to an amateur.  As a home or business owner, you can be held legally liable if the contractor you choose is unlicensed and is injured while removing a tree from your property. We've heard horror stories of tree removal resulting in damage to property – then the "contractor" is suddenly nowhere to be found. Even transporting the removed tree can result in a liability if not handled by experienced and licensed professionals like ours.

Call us today to schedule a tree removal estimate. Let our professionals help remove your trees safely and cost effectively!