Don't Do It Yourself!
While you may be tempted to remove your damaged tree yourself, don't do it! Tree removal is a dangerous job that — if done improperly — can result in personal injury as well as substantial property damage. Tree removal should be left to licensed and certified professionals.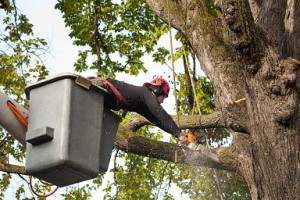 Choosing A Fairfax Tree Removal Company
Removal of a dead or dying tree on your property can be critical to the health and protection of your property. Tree removal will help make sure that your lawn, shrubs and adjoining trees are healthier, as well as protect your house, business, or property should the unhealthy tree fall. Our tree removal technicians have many years of experience, and are experts in all aspects of tree service and removal.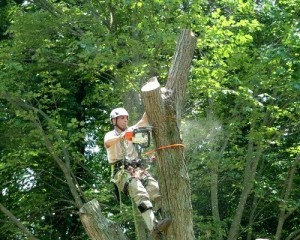 Tree removal is a technical, delicate process. It can be dangerous, and it's not a job for amateurs. As a home or business owner, you can be held legally liable if the contractor you chose is unlicensed and is injured while removing a tree from your property. Too often, when unlicensed contractors cause damage to personal property, they are suddenly nowhere to be found. Even transporting the removed tree can result in a liability if not handled by experienced and licensed professionals. At Stokes Tree Solutions, we are a local, fully licensed and insured tree removal company.
Whatever your tree service and tree removal questions, our tree specialists have the answers. Give us a call now at 703-244-9449 or complete the Need An Estimate? form. You won't be disappointed…we guarantee it.
Fairfax Tree Service Tips
What Trees Do Best In Fairfax?
The right tree to plant varies widely depending on where the tree is being planted. Factors that impact include the amount of direct sunlight, being near septic fields/water sources, whether they'll be impacted by winter wind, whether their branches can create hazards, etc. Once you decide where you would want a tree, examine if the area is close to a water source, which area of the lot it would be in (southern/eastern/western), test the soil, and use factors like these to determine the right tree to plant. Bottom line: it should not be a whimsical decision, or that tree may need to be removed or trimmed sooner than you may like. At Stokes Tree Solutions, we provide free advice and guidance on all tree related topics. We'll help you make the best decisions for your trees and your property.
What are the Most Common Trees in Fairfax?
Red maple, American beech, and Tulip trees are the most commonly found trees in Fairfax.
The official state tree of Virginia is the flowering dogwood (Cornus florida). Fun fact: Virginia is the only state to have the same plant for their state tree and state flower. It can be used to treat dogs with mange, which is speculated as a possible origin of its name. The red berries, while edible, are far from delicious.

Plant Hardiness Zones in Virginia
Here are the plant hardiness zones for the state of Virginia as provided by the USDA:

Call us today at 703-244-9449 for a free tree removal consultation and quote. You won't be disappointed; we guarantee it.