Burke Tree Removal, Tree Cutting, and Tree Limb Removal Services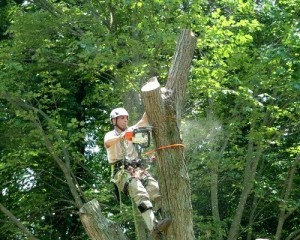 At Stokes Tree Solutions, we are proud to be the premier Burke tree removal service company. When you have a dying or dead tree on your property, its removal could be essential to the health and protection of your property. The removal would make sure that your lawn and shrubs as well as surrounding trees and plants live longer, in addition to protecting your home, business or property in case the tree falls. Our Burke professional tree cutting crews are experienced with every aspect of tree removal.
Tree limb removal services require professionals that are skilled in this technical, delicate procedure. Often, the tree that has to be removed is positioned between a number of other healthy trees and plants. Removing it with no damage to adjacent trees and plants is definitely an art. Stokes Tree Solutions provides specialized tree cutting equipment and expertise which enables us to take out the tree without disturbing the surrounding region. In addition, we are very careful that our equipment doesn't cause damage to the attractive lawn you've worked hard to establish. If we are required to use wheeled equipment to remove the tree or limb, we lay protective materials over your lawn first. When the tree limb removal services are completed, our goal is always to take away the problem tree without leaving any evidence of having been there, retaining the beauty of the nearby landscape.
Are the property lines close between you and your nearby neighbors without much distance between houses? Stokes Tree Solutions is especially effective in these situations. We are able to bring in cranes and bucket trucks to remove the diseased trees or damaged limbs, but our unique skills and procedures coupled with our specialized tree cutting equipment can frequently permit us to take care of the problem without bringing in large tree removal service equipment, reducing the chance of damage to the rest of your property.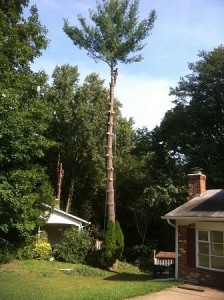 If the large tree right beside your house is the one that must be removed, you could justifiably be anxious that your house might be damaged in the process of removing it. Actually, even pruning a tree such as this requires precision techniques. Choosing an unsuitable Burke tree removal service company to handle this type of tree care could turn out to be a costly mistake. Stokes Tree Solutions has numerous years of experience removing trees such as this and we will remove it or prune it with no risk to your property.
Would you like to replace the tree you are removing with another tree or re-purpose the location into a more open spacious area? Our tree cutting experts are able to offer consultation giving you options designed for the area after the tree is removed.
Tree removal is certainly not a task you ought to leave to an amateur, and definitely not anything you want to tackle on your own. Being a home or business owner, you could be held legally liable in the event the contractor you select is unlicensed, or improperly licensed, and becomes injured while removing a tree on your property. Even transporting the removed tree can lead to a liability if it is not handled by experienced and licensed tree removal professionals like ours. Stokes Tree Solutions is a family owned Burke tree removal company noted for treating our customers just like part of our family and their property as if it were our own.
If you need a worry free solution to your tree removal needs, complete the Need An Estimate form or call Stokes Tree Solutions today!